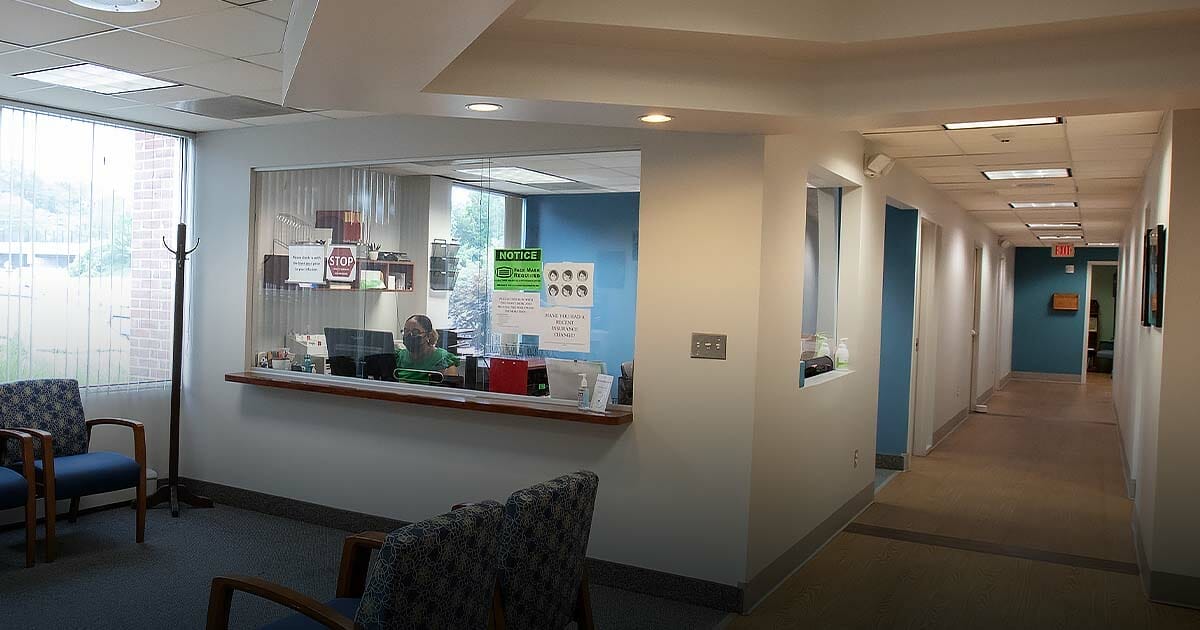 current coronavirus (COVID-19) guidelines
Our Procedures to Keep Patients and Staff Safe
Masks are required by patients and staff at all times. Gators and bandanas are not sufficient.

Patients are welcome to bring vaccinated guests to their appointments with their physician (kindly bring proof of vaccination). Unvaccinated guests are asked to wait in their cars or at home but are welcome to join via phone.

We offer telehealth (virtual) visits when appropriate for certain follow-up appointments. Please contact us for more details.

Infusion Center guidelines.

We maintain a 6-foot minimum distance between chairs.
Patients will need to show proof of full vaccination or a negative COVID test within five (5) days of their infusion appointment.
Visitors may not accompany patients into the infusion room.
Because masks are required, eating or drinking is not allowed except for water. We encourage you to have a snack or meal prior to arriving.
Your comfort and safety are of utmost importance. If you have any questions or concerns about COVID-19 protocols, please contact us.
Check with your doctor for all questions regarding vaccinations and boosters! Recommendations are constantly being updated and may not apply to everyone!
Note: We strongly recommend that all our patients receive one of the available COVID vaccines and booster.
Should I Have a Booster Shot?
The CDC and FDA have approved a third vaccine for everyone after initial vaccination with ANY of the coronavirus vaccines (Moderna, Pfizer, J&J). For further information on specifics, please refer to the CDC website.
If You Are On Ocrevus (ocrelizumab) or Rituxan (rituximab)
Check with your physician about which booster is recommended.

If you are being treated with Ocrevus or Rituxan, you are more likely to make antibodies to the vaccine if you wait 3 months or more after your last infusion before getting the booster. It is best not to be vaccinated in the 2 weeks before an infusion. You should wait at least 2 weeks after the booster before having your next infusion. Optimal timing indicated in green in the diagram below:

If You Are On Kesimpta (ofatumumab), Gilenya (fingolimod), Mayzent (Siponimod), Zeposia (ozanimod)
Check with your physician about which booster is recommended and to discuss the timing of receiving a booster as the plan may be different for every individual.
Patients On Copaxone (glatiramer), Avonex / Rebif (beta interferon), Tecfidera, Vumerity, dimethyl fumarate, Aubagio (teriflunomide), Mavenclad (cladribine), or Tysabri (natalizumab)
We recommend getting the booster dose of the Pfizer or Moderna booster strength when you are eligible.
If You Contract COVID-19, Please Contact Us and Your Primary Care Physician Immediately!
You may be eligible to receive monoclonal antibody treatment for COVID-19 that can reduce the severity and shorten the duration of COVID symptoms.
Are the vaccines safe?
YES. The Pfizer and Moderna are mRNA vaccines that require 2 doses, and the Johnson & Johnson is a single dose viral vector vaccine. All are safe for people with MS, regardless of what type of disease modifying therapy they are taking. There are no long-term issues related to these vaccines.
At this time, we are recommending that all of our patients with MS get vaccinated with any of the available vaccines. If you have any questions about being vaccinated you should contact your doctor.
Will my MS medication interfere with the vaccine?
If you are on Ocrevus, Rituxan, or Kesimpta:
These medications reduce your B-lymphocytes (which create antibodies to fight infections) and may reduce your response to vaccines. While we don't know for sure, it seems very likely that the coronavirus vaccines provide significant protection. This applies to patients who did not make antibodies in response to vaccination.
If you are on Gilenya, Zeposia, Ponvory, or Mayzent:
These medications may reduce the effectiveness of vaccines, but we still recommend that our patients be vaccinated. We do not recommend stopping these medications prior to being vaccinated because of the risk of relapse.
If you are on Mavenclad:
Mavenclad temporarily reduces your lymphocyte count for several months after a dose, though it is unclear if this reduces the effect of vaccines. We will decide the timing of vaccination on a case-by-case basis.
If you are on Aubagio, Tecfidera (or a fumarate drug), Tysabri, interferon, or glatiramer:
These medications are not known to interfere with vaccines and coronavirus vaccines should be effective.