American Academy of Neurology Annual Meeting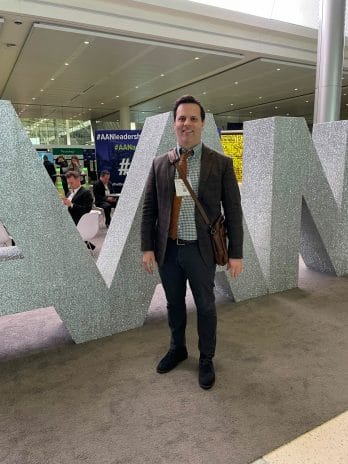 The Elliot Lewis Center attended AAN 2023 in Boston
Dr. Andrew Bouley attended The American Academy of Neurology's 75th Annual Meeting in Boston! AAN is the largest association for neurologists in the world. AAN is instrumental in education, research, advocacy, creating medical guidelines for neurologic diseases, and publishing Neurology, one of the premier neurologic journals.
During the Annual Meeting, a wide range of topics are presented, ranging from patient advocacy and healthcare costs to cutting-edge research in neurologic diseases. Dr. Bouley had the opportunity to learn about new advancements in multiple sclerosis, as well as other neurologic disorders, such as new treatment options for migraines (which are common in patients with MS).
AAN provides the opportunity for neurology colleagues from across the country to connect and learn from one another.