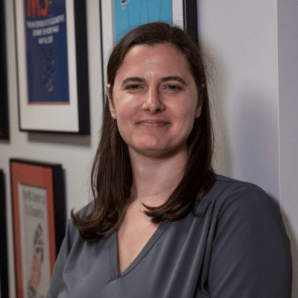 Carrie has been part of the ELC family for four years. A self-described extrovert, Carrie holds a PhD in psychology and currently works as a data analyst.
She had her first symptoms in 2017. "It was weird. I woke up on a Sunday, and my arm was numb. It never went away. I called my primary care the following day. I told the doctor I was pretty sure it was MS or a brain tumor."
She was right. A diagnosis of MS was confirmed. "I was fortunate to find out quickly, but I was still very surprised. It was very acute, and I had acute unhappiness as a result."
She wanted to be sure. "After my diagnosis, I went for a second opinion, but I just didn't connect with the doctor. The third neurologist was the same." Carrie was more than frustrated. "After an MS diagnosis, there is lots of "castrophizing" (I imagined the worst possible outcome). This is about the rest of my life. What's going to stay, and what's going to get worse. I was looking for answers.
About that time, Carrie's father came across an advertisement for a lecture about MS. "So, I went. It was Dr. Lathi – she was funny and had a personality. When she started to talk, she engaged with everyone in the room. She encouraged us to speak up and ask questions. That's how she identified me as a newly diagnosed patient." For the first time, Carrie felt "seen and heard". "Dr. Lathi told me I was brave to be there and told the audience that because I needed the most information, she would tailor the talk particularly to me. I cried because what she said gave me hope. I learned MS was not a death sentence, and I have a say – That's what I needed to hear."
"When I met Dr. Lathi, I knew I had found my person, my doctor. This is my life. I want answers and need to work with someone I can learn from and work with – a mentor as well as a doctor."
Carrie had already done her own research about the benefits of early treatment for MS. "I wanted it now." But treatment had to wait. "When I had a baseline MRI of my neck, the doctor found nodules in my thyroid, and I had to have that dealt with. I had multiple biopsies before being diagnosed with thyroid cancer. I'm a researcher, and I knew delaying might impact my outcome. While I was waiting for cancer treatment, Dr. Lathi was there to reassure me that we were still ok, that a delay of a few weeks or even months would not matter in the long run. Fortunately, I was able to schedule thyroid surgery within two months of my cancer diagnosis."
Finding the right treatment was a process. "I wanted the best and didn't want to have to think about taking a pill every day. The first MS medication we chose didn't work out. Every time we approached a treatment, something went wrong. Because of my cancer, I had been knocked out of the pivotal Ocrevus trial before its FDA approval — I would have been patient 001. That was a disappointment."
Fortunately, Dr. Lathi shared her commitment to finding the best treatment for Carrie. "I have so much faith in Dr. Lathi's knowledge, I absolutely trust her. We had just started talking about other medications when we found out that Ocrevus had been approved. We immediately changed our treatment plan."
Today, Carrie's MS is under control. "I'm stable. It's a weird space to be in. Early on, Dr. Lathi told me, 'Three years from now you won't be thinking about your MS every day.' I told her she was crazy, especially because of my anxiety! Still, she was right."
What does she have to say about her overall experience at The Elliot Lewis Center?
"With MS, you're leading the same life, but you are experiencing it through an entirely different lens. What really comes through to me at The Elliot Lewis Center is the patient-centered approach. I come into the office, and they ask me about my life and my partner. I feel seen and cared about. Other doctors I spoke to weren't helpful. I asked one about diet, and his response was 'Don't eat a Big Mac every day.' Dr. Lathi gives me a much more holistic picture, so I can make informed decisions – choices that take points away, others that add points."
Carrie has some words of advice for others considering options for their MS treatment. "Find someone who will take time with you. I'm particular and demanding. At our first meeting, Dr. Lathi sat and answered twenty questions of mine and then answered my partner's questions. Look for someone who sees you as a person with their own life and who will get back to you quickly whenever you need answers. The MS treatment landscape has changed remarkably. Make sure you work with someone knowledgeable on the latest treatments and who is willing to help you access them."